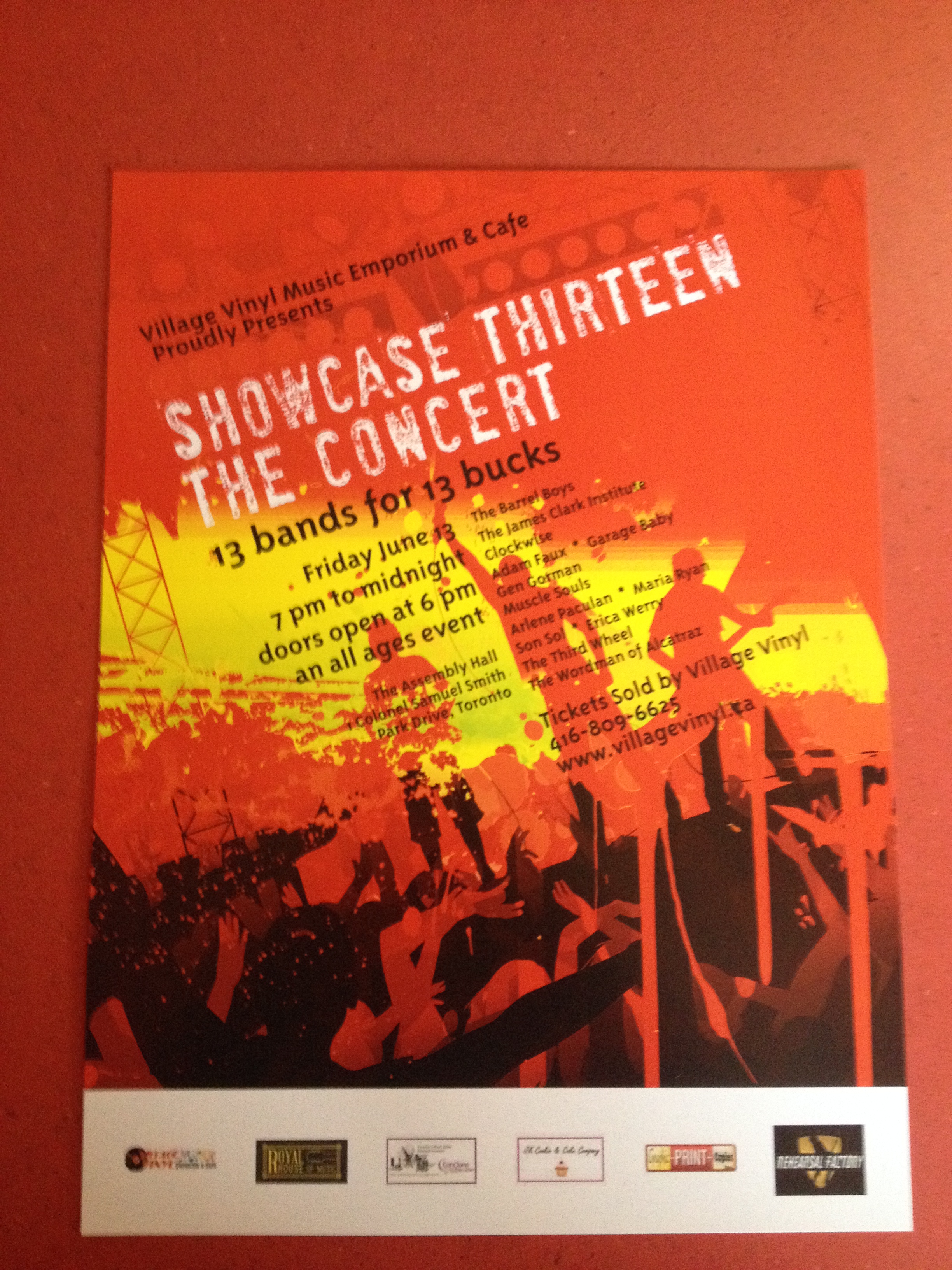 Get your tickets now!
Where can you go to a concert and see 13 Bands for 13 Bucks? Where can you hear 13 amazing performances at a buffet of music styles and genres? Where can you bring all ages to listen to talented career musicians make their music? Where can you enjoy theatre seating, sound and lighting while partaking in an original music smorgasbord? At SHOWCASE THIRTEEN, the concert, that's where. On Friday June 13 at the beautiful Assembly Hall you can enjoy 13 Bands for 13 Bucks! The 13 band line up in alphabetical order is:
The Barrel Boys: https://www.facebook.com/TheBarrelBoys
Clockwise: http://www.clockwisecanada.com/home
The James Clark Institute: http://www.clarkinstitute.com/
Adam Faux: http://www.adamfaux.com/
Garage Baby: https://www.facebook.com/GarageBaby
Gen Gorman: http://www.gengorman.com/
Muscle Souls: www.musclesoulsmusic.com/
Arlene Paculan: http://www.arlenepaculan.com/
Maria Ryan: http://www.mariaryanmusic.com/
Son Sol: https://soundcloud.com/sonsol-1
The Third Wheel: https://www.facebook.com/pages/The-Third-Wheel-Trio/278832592242914
Erika Werry: http://www.erikawerry.com/
The Wordman of Alcatraz: http://thewordmanofalcatraz.bandcamp.com/
Tickets are available only through Village Vinyl Music Emporium & Cafe. Tickets can be purchased in person or by calling 416-809-6625. Tickets will not be sold at the door. Get yours now before we sell out. The Assembly hall has a seating limit of 265 great seats and we expect them to be all sold well before the date of the show.