Fascinating Rhythm art exhibit at Village Vinyl now, runs through March 29. This is our 5th art exhibit at Village Vinyl. Do not miss this fabulous exhibition by Marianne Morris. Her love of music bursts forth from her paintings. She actually paints to music pulsing through her studio which always inspires her to ultimate creativity. Her work is vibrant and exciting and celebrates the musician and music. We are privileged to have Mariann's works here for our 5th music themed art exhibit. Fascinating Rhythm is only here until March 29 so don't miss an opport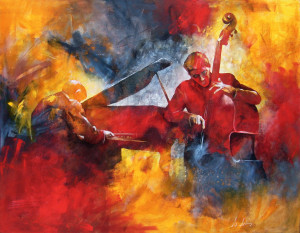 unity to see it. All of the original paintings are available for sale.
Marianne says; "My work is mainly about expressing emotion. 
I use my painting to explore things we all experience on a daily basis but rarely examine; emotions like joy, loneliness, sorrow, love, connection. Using colour, pattern and symbolism, I explore the relationships between us and our surroundings, ourselves and the things that influence the pattern of our lives, like culture, music, and history.
Working in a variety of media, my explorations in pastel, acrylic, encaustic and collage have led to the inevitable mixing of media. Traditional tools, supplemented with digital technology, stretch the possibilities for my images.
Each painting starts with a photograph, drawing or a combination, and a piece of music. The backgrounds are painted intuitively, the soundtrack providing the inspiration. I use whatever tool strikes me in the moment: sometimes paint is applied with a brush, but often it is my hands, a kitchen utensil, or something improvised. The photograph is used for reference as the form emerges from the background, final touches adding the details to the figure.
I have a BA from the University of Waterloo, and currently reside in Mississauga, Ontario.