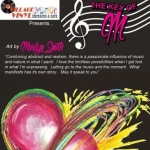 Art Exhibit and Sale at Village Vinyl opens November 20.
The Key of M art exhibit, art by Marilyn Smith and presented by Village Vinyl  opens on Thursday November 20. The Key of M exhibit and sale runs through to Sunday December 21. Join us on opening night from 6:30 to 9:30 p.m. Meet the artist, get to know her art  and mix and mingle with folks who enjoy the arts in a music centric environment. Village Vinyl continues in its ongoing  quest to support local artists, both musical and visual. Marilyn Smith is an artist who happens to live in our 'hood and has long been a customer and supporter of our music store. For some time the music lover in her has considered melding her love of music with her talent as an artist and so we now have The Key of M. In Marilyn's words:
"Combining abstract and realism, there is a passionate influence of music and nature in what I paint.
I love the limitless possibilities
when I get lost in what I am expressing.
Letting go to the music and the moment.
What manifests has its own story…
On opening night Marilyn will be raffling off one of her art works. Tickets are $10.00 each or 3 for $20.00. What a great opportunity to own a piece of original art by a very educated and talented artist. All are welcome.