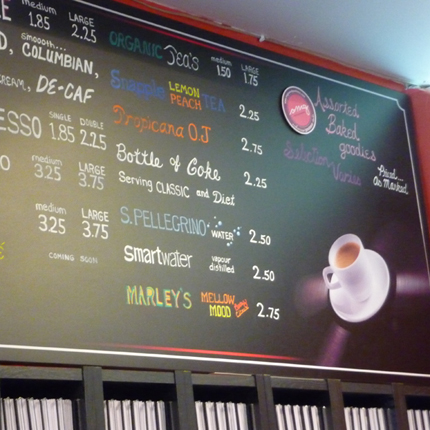 Enjoy a treat from our café while you browse our music collection.
While you are browsing the music store or just wanting to retreat from the outside world and immerse yourself into the soul satisfying world of a totally music centric environment, enjoy the offerings of our bright and modern on site Café. Our coffees are always hot and freshly ground from only the finest premium beans that are both Organic and Rain Forest Alliance Certified. Sophisticated taste testing went into determining the beans we would make our coffees from which run the gamut from gentle to bold and flavoured to espresso and are all a great flavour experience. We make a variety of espresso based cafes we hope you can linger over but take out service is also available on all café products. We offer our own seasonal specialties like our widely popular V V  Ice Cafe and our own Pumpkin Spice Latte that is made with real pumpkin. New this winter and sure to be a seasonal favorite  is our Peppermint CandyCane Latte. As well as coffee drinks the café sells Organic Teas, a limited selection of bottled cold drinks such as iced teas, premium juice, premium waters and even Coca Cola in those wonderful vintage bottles.
What coffee or tea isn't better with a sweet treat to compliment it?
To that end we sought to offer a select variety of bakery products that were reflective of the tone and vision of our store. They had to be fresh, familiar and comforting yet with a modern appeal, price sensitive and of course deliciously yummy.  We, as an independent owner operated retailer that embraces the community we chose to locate our business in, endeavor to support other local business wherever possible.  Some months after opening we discovered a South Etobicoke and Lake Shore neighbourhood bakery which was an independent owner operated wholesale and retail business that offered exactly what we were looking for.
More than Pies Baking Co. Ltd  is our primary supplier of our home-style bakery goods.  Their delightful owner and chef, Louise Poulos is passionate about the quality of her baked goods which  are prepared and baked by hand using all natural ingredients and local produce whenever possible. Her lemon squares are exquisite…just ask our regular customer Melissa who will buy one to eat in the store on Sunday and another to take home for Monday when we are closed. An innovative ingredient in some treats is lavender which transports pecan biscotti to a whole new level! And then there are the Brownies! They are exactly what you want a Brownie to be, rich, chocolatey, dense but not heavy and finger and plate licking good. On weekends we order in their signature product…Pies. Pies that are packed full of fruit with flavours that are fresh and natural, not overly sweet, and the lattice top pie crust is light and flaky. Alternativlely, sweet crumble crust  topping pairs beautifully with fruit combo fillings like Peach and Blueberry and Strawberry and Rhubarb. Best of all, the pie looks and tastes like something your (very talented) friend or mom could make. Poulos says that's exactly what they're going for — delicious, homemade, and not too fussy.
Bakery treats can be purchased for takeout but we think you will enjoy them best eaten in with all the added offerings, amenities and ambience of our music emporium and cafe to enhance the experience.