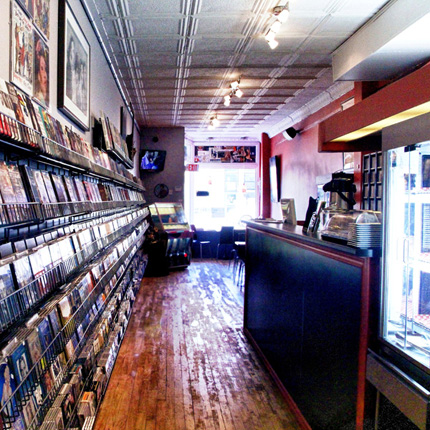 We've got a great selection of music for your listening pleasure!
Our Music Emporium happily embraces virtually all genres of music in a variety of formats from vinyl to disc to tape. We endeavor to provide recorded music with a wide appeal to satisfy both music listener and collector. We have many imports, rare and hard to find recordings as well as the more commonly requested ones. We set high standards of quality for the products we carry but never high prices. Our goal is to provide an ever changing selection of desirable recorded music in a friendly, welcoming and knowledgeable atmosphere where products are fairly and very appealingly priced.
Our vast and varied selection is restocked daily and our high-tech inventory program allows us to see what is available at all times. We have designed the music store for easy browsing and display all products in a modern organized format that is a pleasure to shop. We are proud to offer a huge selection of quality vinyl representing an extensive range of eras and genres. Our Vinyl Room holds many thousands of LP's  including  collectable box sets, 45's and even 78's, mostly used and some new as well as specialty vinyl such as audiophile LP's, EP's, original singles, jukebox re-issues, picture sleeve 45's, box sets and picture discs.
We also stock a massive assortment of quality used CD's in a broad range of genres which include singles, collections, collectable box sets, 'hard to find' and 'out of print' CD's as well as a limited selection of CD's by local musicians.
In our music store you will find music documentaries and music concerts on DVD, VHS and LASER DISC formats, all in excellent condition.
No serious record store would be complete without accessories for the collector. Inner and outer sleeves for 33's and 45's, record cleaning supplies and our very own acrylic album displayers  can all be found here as well as professional vinyl record cleaning.
Vintage Turntables are available on a limited basis in a range of prices to meet individual needs. They are all in excellent repair and working order. We also offer repairs to all makes and models of vintage audiophile equipment including solid state and tube models.
The music store is adorned with fine art pieces, distinctive wall art, and unique collectables all from or about the world of music and all for sale. From time to time we will feature some of them on our Happenings page. They are priced at a fair market value appropriately reflecting their individual worth.
Another unique feature of the store is our selection of highly collectable music memorabilia pieces all in great condition and most very rare or 'one of a kinds'. Since display space is limited not all pieces are on site but tell us what you collect or who you follow and we may have something that you just must have!
In the Vinyl Room you will find a section devoted to the printed word, relative to music, in the form of 'almost new' books. Some are vintage, some are collectable, some are out of print and some are just plain old 'good reads'. Additionally, we carry a limited selection of vintage music magazines.
We purchase quality used vinyl, cd's, music dvd's