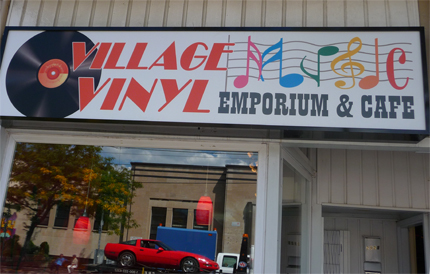 Our store front is on the South side of Lakeshore Blvd West.
Village Vinyl Music Emporium & Café is a unique and very special kind of record store. It's a 'one-of-a-kind' fusion of contemporary psyche with vintage ethos. It is sleekly designed and outfitted so that shopping its huge and varied selection of recorded music and its rare collectables, memorabilia and art is pure pleasure and an adventure for the senses.  Housed in a century old building with original tin ceiling, brick wall and wooden floors it is a paradise for both the casual and the serious music lover/collector.
To ramp up the pleasure factor music mixes of the owner's own making play in the background, occasionally interdispersed with relevant radio shows, local artist's recordings or The Feature Artist's music while musical video mixes run on flat screen for a visual treat. To amp it up even more…play the fully working original jukebox (3 plays for a quarter) for a real trip down the vintage lane. The emporium's uniqueness is further enhanced by the bright, clean café that resides within the store and emits wonderfully flavourful coffee smells to complete the sensory experience. Here you can enjoy coffees, teas and baked goods while shopping the music store or just sitting and savouring a very extraordinary atmosphere.
Keith (Keefer) and Karyn are the friendly, welcoming and non 'genre prejudiced' owners and on site operators of Village Vinyl Music Emporium & Café. Keefer has had a lifelong, broad and varied love affair with music and as such has been a lifelong avid collector of musical recordings and all their accoutrements. In fact, when he immigrated from England to Canada all he brought with him were his records. He embraces all genres of music and thrives on discovering new talent and musical stylings. Karyn is a much more casual and less knowledgeable music lover who embraces a number of genres but is a rocker chic at heart. Keefer is the music man while Karyn manages the café and business operations. They have previously both worked very successfully in consumer goods industries and understand how important excellent customer service and great product selection and presentation are to retail success. If they don't have what you are looking for they will try and get it for you. Village Vinyl aspires to be both a destination store and a local favorite for the audiophile, the experienced collector, the new collector and the casual music lover.
The store is located in southwest Toronto in the heart of the eclectic and burgeoning artistic community of Lakeshore Village. The 'village' is a wonderful fit for a music store as it is home to many musicians and other artists as well as to the Lakeshore campus of Humber College and their renowned music degree program. It is easily accessed by highway, main roads or transit from downtown Toronto, the GTA and southern Ontario and paid parking is adjacent and plentiful.
This is a record store like none you have ever seen before. Come visit, be welcomed and explore and experience its wonders.